Best AFCAT Books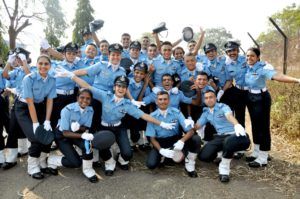 The Indian Air Force conducts the Air Force Common Admission Test (AFCAT) to recruit deserving candidates for the Flying and Ground Duty Branches. Every year, many candidates fill the AFCAT online application form but only a few get selected. The foremost step towards success in this exam is, buying the best AFCAT books and study material. In this article, we will discuss just that.
Exam Pattern
Before talking about the AFCAT books, it is important to throw light at the pattern of the AFCAT exam. This exam comprises of three stages:
Written Exam (AFCAT + EKT for Technical Branch)

Air Force Selection Board (AFSB) 

Interview and Medical Test
It is an online examination, which is held in two shifts. There will be 100 multiple choice questions and the candidates have to answer them in 120 minutes. Each question will have a weightage of 3 marks and 1 mark will be deducted for every wrong answer. The Engineering Knowledge Test (EKT) will be a 150 marks test. To know more please visit: https://afcat.cdac.in
The AFCAT exam has a very high standard and the syllabus can be divided and subdivided as follows: 
 

General Awareness: 

(Basic Science, Sports, Geography, History, Environment, Arts and Culture, Civics, International Affairs etc.)

Verbal Ability: 

(basic grammar, error detection, comprehension, testing vocabulary, synonyms and antonyms, tenses, fill in the blanks and sentence completion)

Numerical Ability: 

(averages, profit and loss, simple interest, decimals, fraction, ratio and proportion, simplification and percentage etc.)

Reasoning and Military Aptitude Test: 

(diagrams, figures, tables, charts, reasoning analogies etc.)
Books for AFCAT 2 2021
The AFCAT books candidates can refer to are:
AFCAT for Flying, Technical & Ground Duty Branch with Solved Papers (English, Paperback) by Arihant Experts

AFCAT (Air Force Common Admission Test) by Arihant Experts

AFCAT (Air Force Common Admission Test) Self Study Guide cum-Practice Work Book by Kiran Prakashan

AFCAT Solved Papers and Practice Sets by Arihant Experts

SSB Interview: The Complete Guide by N K Natarajan

Manorama Yearbook 2019 by Philip Mathew

Quantitative Aptitude for Competitive Examinations by R S Aggarwal

AFCAT (Air Force Common Admission Test) Exam Guide: For Flying and Technical Branch (Popular Master Guide) by R Gupta

**Best Resource!**
Shaurya Bharat has released its own AFCAT Books!. It covers the complete syllabus and is based on latest pattern. Plenty of solved and unsolved questions provide the aspirants necessary practice. Candidates can also download the app for mock test practice.
Don't miss the opportunity purchase your copy now! and touch the sky with Glory.
BUY NOW.

Prepare for AFCAT with the Best!
While these books can give candidates a glimpse of the AFCAT exam. But to crack this exam in one go regular interactions with teachers, daily classes and interactive lectures are very important. A book can tell you about all the facts but the Shaurya Bharat App will clear all your doubts and give you expert and valuable feedback. The teachers working for the app covers the whole syllabus, create mock tests accordingly and keep adding new facts and current affairs to your syllabus. You can watch and re-watch the e-lectures anytime at your convenience. The discussions on previous years' question papers help students understand the nature of the exam. There are many AFCAT books you can refer to, but to pass this national level exam do not take any risk. The Shaurya Bharat App is India's leading defence learning app which gives you the confidence and knowledge you need to touch the sky full of opportunities.
Download our App.
Jai Hind!