Indian Coast Guard (Sailor) - Full Online Course
The Indian Coast Guard is an Armed Force, Search and Rescue and Maritime Law Enforcement agency that protects India's maritime interests and enforces its maritime law, with jurisdiction over the territorial waters of India, including its contiguous zone and exclusive economic zone. The Indian Coast Guard was formally established on 18 August 1978 by the Coast Guard Act, 1978 of the Parliament of India. It operates under the Ministry of Defence.
Indian Coast Guard (Sailor) Video Lectures (Demo)
Indian Coast Guard (Sailor) Exam Details
About Indian Coast Guard (Sailor)
This online course is based on the latest COAST GUARD (SAILOR) course. The entire course material and video lecture of this course has been prepared by Captain Atul Sir and his experienced team. The Shaurya Bharat team has set a record for giving more than 2500 selections in the last 8 years in the Defence Services ( Army / Air Force / Navy / Police) .
This course is designed to ensure the selection of each student, where specially designed e-books, recorded video lectures prepared by highly specialized teachers, thousands of practice tests, live exam based on exam pattern and regular Live classes are the source of success. The team of teachers of Shaurya Bharat takes special care of each student under the able leadership of Captain Atul Sir and motivates for his selection.
Course Offers
Unique Features
Eligibility Criteria
Indian Coast Guard (Sailor)

Course Packages
Top-Up Recharge Course (30 Days)


₹2499/-
Tejas Course (60 Days)


₹3499/-
Sudarshan Course (4 Months)

₹5499/-
Paramveer Course (6 Months)

₹6999/-
Sankalp Course (1 Year)


₹10499/-
Brahmastra Course (2 Years)


₹15999/-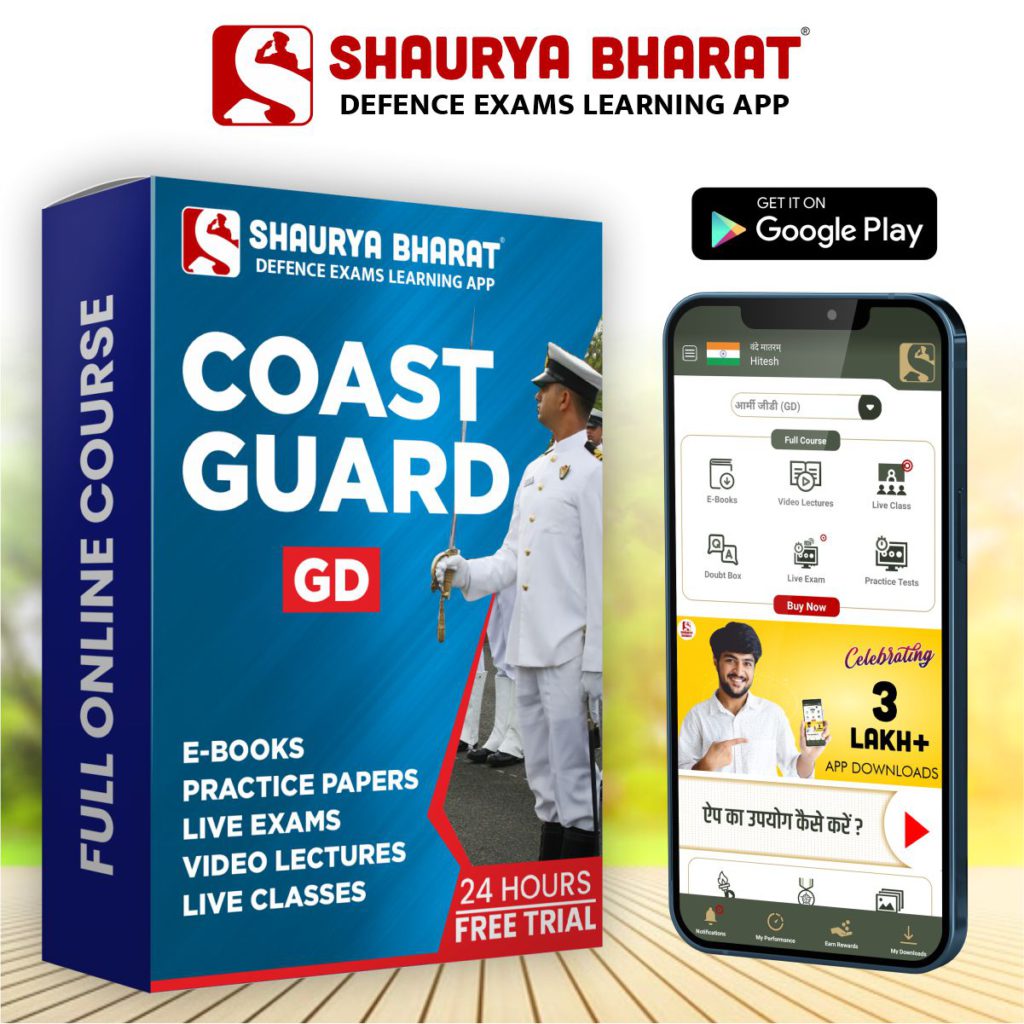 Our Shining Stars Serving The Nation
सेना में जाने का इरादा रखने वाले हर युवक को मैं शौर्य अकादमी में जाने की सलाह देता हूँI यहाँ अनुभवी शिक्षकों के द्वारा उचित मार्गदर्शन तो मिलता ही हैं और साथ ही साथ व्यक्तिगत रूप से हर अभ्यर्थी पर भी ध्यान दिया जाता हैI
It has been a privilege to be a part of such an excellent institute. Teachers are simply the best. They were as sure as I was of my success and they always went out of the way to help me with every doubt. I can't thank them enough for their constant support and guidance.
मैं शौर्य अकादमी से बिलकुल संतुष्ट हूँ, और सभी अध्यापकों और कैप्टेन अतुल सर का धन्यवाद करता हूँ जिन्होंने मुझे समझा और हर तरह से मेरी तैयारी में मददगार साबित हुएI मेरे डाइट चार्ट का भी ख़ास ख्याल रखा गया, जिससे मैं शारीरिक परीक्षा में पास हो पायाI
Shaurya Academy is the pioneer institute which has helped convert the dreams of hundreds of aspirants into reality. The focus is on providing holistic education not only covering the syllabus but also enabling the students to face other challenges of life with equal ease.
I'm very grateful to be a part of 'Shaurya Academy.' It gave me an exquisite thrust to achieve my dream and made reaching my goal very easy. I was provided with a plethora of opportunities to test myself which helped me a lot in the written as well as in SSB. I'm very grateful to be a part of such an institution.
It's been an immense pleasure to be a part of Shaurya Academy, the academy helped me at every step to understand the various nuances of defense exams and perform as per expectations.
शौर्य अकादमी को चुनना मेरे जीवन का सबसे सही फैसला थाI सभी शिक्षक बहुत मिलनसार हैं, और कोई भी परेशानी आने पर तुरंत मदद के लिए तैयार थेI लिखित परीक्षा से लेकर शारीरिक परीक्षा तक में मुझे पूरी तरह मार्गदर्शित किया गयाI