Indian Air Force XY Group - Full Online Course
The Indian Air Force was officially established on 8 October 1932. Its first ac flight came into being on 01 Apr 1933. It possessed a strength of six RAF-trained officers and 19 Havai Sepoys (literally, air soldiers). The aircraft inventory comprised of four Westland Wapiti IIA army co-operation biplanes at Drigh Road as the "A" Flight nucleus of the planned No.1 (Army Co- operation) Squadron.
Indian Air Force XY Group
Exam Details
About Indian Air Force XY Group
Indian Air Force commands an arsenal of state of the art air crafts, modern weaponry, advanced communication systems that make it indomitable in sky. It requires candidates with technical aptitude to operate and maintain these machines. Its real strength lies in the men and not in the machines. Indian Airforce conducts exam twice every year to select candidates for the post of Airmen. This is an excellent opportunity for candidates who wish to join the Indian Airforce and serve the nation.
HOW TO APPLY

Interested candidates can apply by registering on the official website of Indian Airforce.
To apply online Click Here.
EXAM NOTIFICATION

Exam notification for first cycle is released in month of January and for second cycle in July. 
For recent notification Click Here.
Check official notification Here

.



SELECTION PROCESS
The Indian Air Force selects Airmen (XY group) in three stages 
 STAGE 1:  Online Examination  for XY group for first cycle will be conducted in the month of March and for second cycle in September.

 STAGE 2 : Candidates qualifying Stage 1 will be called to appear for Stage 2. Stage 2 will include

Physical Fitness Test
Ability Test
Medical Examination

 STAGE 3 :  After clearing stage 2 merit list of selected candidates will be released

Provisionally Selected List (PSL)
Joining Letter
Selected candidates :
  Selected candidates will get their joining letters and will have to report for Training, after which they will join the Indian Airforce as 
Airmen
.
Eligibility Criteria
Course Offers
Unique Features
Indian Air Force XY Group Video Lectures
Indian Air Force XY Group Course Packages
Top-Up Recharge Course (30 Days)

₹3499/-
Tejas Course (60 Days)


₹4499/-
Sudarshan Course (4 Months)


₹7499/-
Paramveer Course (6 Months)


₹8999/-
Sankalp Course (1 Year)


₹12999/-



Brahmastra Course (2 Years)


₹17999/-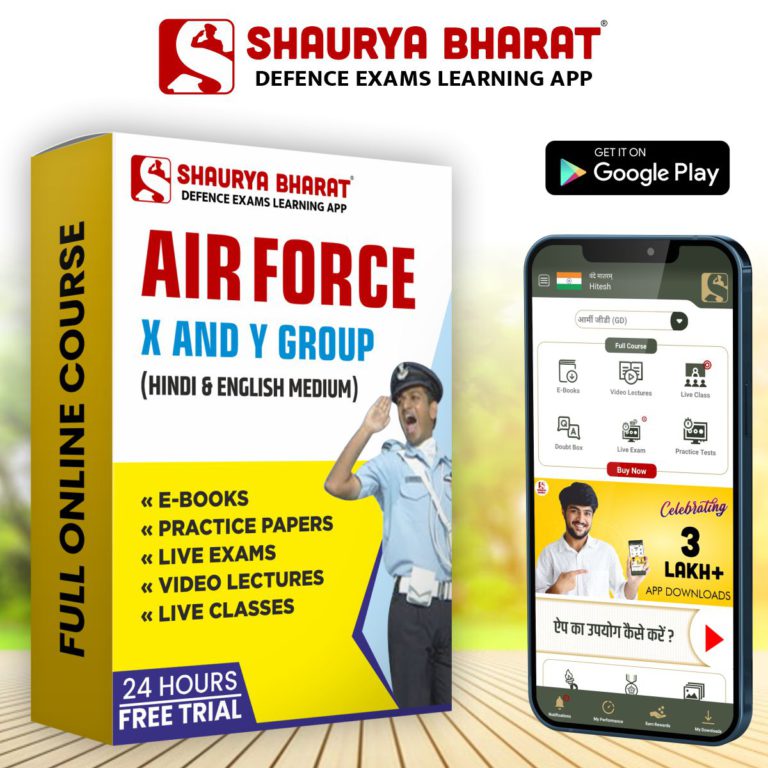 Other Indian Air Force Courses
Our Shining Stars Serving The Nation
मैं शौर्य अकादमी से बिलकुल संतुष्ट हूँ, और सभी अध्यापकों और कैप्टेन अतुल सर का धन्यवाद करता हूँ जिन्होंने मुझे समझा और हर तरह से मेरी तैयारी में मददगार साबित हुएI मेरे डाइट चार्ट का भी ख़ास ख्याल रखा गया, जिससे मैं शारीरिक परीक्षा में पास हो पायाI
I'm very grateful to be a part of 'Shaurya Academy.' It gave me an exquisite thrust to achieve my dream and made reaching my goal very easy. I was provided with a plethora of opportunities to test myself which helped me a lot in the written as well as in SSB. I'm very grateful to be a part of such an institution.
It has been a privilege to be a part of such an excellent institute. Teachers are simply the best. They were as sure as I was of my success and they always went out of the way to help me with every doubt. I can't thank them enough for their constant support and guidance.
Shaurya Academy is the pioneer institute which has helped convert the dreams of hundreds of aspirants into reality. The focus is on providing holistic education not only covering the syllabus but also enabling the students to face other challenges of life with equal ease.
शौर्य अकादमी को चुनना मेरे जीवन का सबसे सही फैसला थाI सभी शिक्षक बहुत मिलनसार हैं, और कोई भी परेशानी आने पर तुरंत मदद के लिए तैयार थेI लिखित परीक्षा से लेकर शारीरिक परीक्षा तक में मुझे पूरी तरह मार्गदर्शित किया गयाI
सेना में जाने का इरादा रखने वाले हर युवक को मैं शौर्य अकादमी में जाने की सलाह देता हूँI यहाँ अनुभवी शिक्षकों के द्वारा उचित मार्गदर्शन तो मिलता ही हैं और साथ ही साथ व्यक्तिगत रूप से हर अभ्यर्थी पर भी ध्यान दिया जाता हैI
It's been an immense pleasure to be a part of Shaurya Academy, the academy helped me at every step to understand the various nuances of defense exams and perform as per expectations.