National Defence Academy,Khandakwasla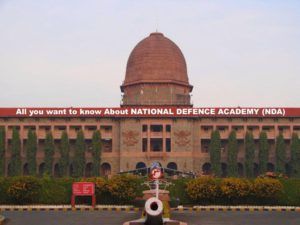 National Defence Academy Khandakwasla, Pune was situated in 1954. It is one of a kind tri-service academy in the world, which is affiliated with Jawaharlal Nehru University. The NDA exams are conducted twice a year. By cracking this exam, a young boy gets a chance to become an officer in the three wings of the NDA i.e, Army, Navy and Air force and Indian Naval Academy Course (INAC). The Union Public Service Commission (UPSC) conducts the NDA exam twice a year. 
Once the training is completed the candidates the candidates are sent to their respective academies for further training. National Defence Academy Khandakwasla is an all-male institution where the cadets are designated as Captain, Lieutenant and Flight Lieutenant in their respective wings after passing the final training. To know more please visit: https://www.upsc.gov.in
The campus of NDA is spread over 28 km and it has classrooms, library, training ground, mess, hostel, indoor and outdoor sports areas, dance studio, leisure space, medical facilities, etc. Apart from these, there are some unique and worth mentioning facilities given by NDA.
Library:

 The NDA library was established in 1955, it has a rare collection of books and journals. It has more than 85,000 titles and has access to about 97,000 e-books and 6,000 e-journals too. Great books on History, Geography, Economics, Polity, Science and Technology, etc., are easily available here.  

Hostel:

 NDA is a residential institution which means that the students ought to live inside the college premises till the time they complete their course. Students are provided one separate room each and all the facilities like mess, laundry, canteen etc. 

Labs:

 There are up-to-date laboratories, that are well- equipped with modern technology.

Sports: 

Many cadets of NDA have played at the international level and have represented India. Such cadets are trained at the NDA sports ground covering vast areas in acres. The campus has both indoor and outdoor sports. 

Auditorium: 

NDA's Habibullah Hall was named after the first commandant of NDA. It is a double-storey building having a seating capacity of 1,700 students. It hosts events like presentation, lectures, musical events, dance competition, entertainment program, etc.
The academy offers a total of 21 courses for the cadets to choose from.
The National Defence Academy Khandakwasla educational faculty is divided into five departments:
Faculty of Sciences

Faculty of Computational Sciences

Faculty of Technology

Faculty of Social Sciences

Faculty of Languages
To get admission to National Defence Academy Khandakwasla, a candidate has to clear the NDA entrance exam which comprises of a written exam and SSB interview. The written exam comprises two sections, Mathematics and General Ability Test. The exam has a weightage of 900 marks. Candidates who manage to grab minimum qualifying marks in the written exam are called for the NDA SSB interview. SSB is a five-day-long interview process in which a candidate personality and aptitude is tested.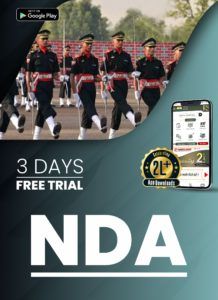 The National Defence Academy Khandakwasla is known for its discipline and rich heritage. To become a part of this legacy, one has to do a lot of hard work. The NDA exam will make their life but to crack this exam in one go rely on nobody else but the Shaurya Bharat App. The app provides the best content for NDA Exam preparation. This app helps you prepare with highly qualified teachers who assure students sure shot success.
 Download our App.
Jai Hind!