UPSC NDA and NA Exam

The Union Public Service Commission of India plays a vital role in planning and executing some of the most crucial exams in the country. Be it the Civil Services Examinations or the Defence Services Examinations, the board fulfills all the necessary demands of the exam and shapes the nation for the better. The National Defence Academy exam is one of them. The NDA UPSC exam takes place in two phases:
1) Mathematics- This paper consists of 120 questions of two and a half marks each. The total weightage of this section is 300 marks
2) General Ability Test (GAT)- This paper comprises of 150 questions of four marks each. The total weightage of this section is 600 marks.
The time duration for each paper is 2 hours and 30 minutes, making it a total of 5 hours. The GAT section is quite lengthy as it covers questions from English, Physics, Chemistry, Biology, History, Civics, Geography and Economics. Apart from this, the candidates need to stay updated with recent events. The General Ability Test section of NDA carries a total of 150 questions. The English section consists of 50 questions. For every correct answer, four marks are awarded while 1.33 marks will be deducted for every wrong answer.
The candidates who manage to pass the NDA UPSC exam (written) are then called for the SSB interview.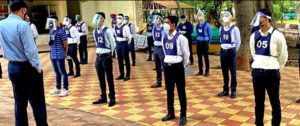 What after clearing the written exam?
The way to reach the NDA exam interview i.e, SSB is not very easy as a candidate who wishes to appear in front of the board, has to secure the minimum qualifying marks separately in his written test and Officer Potentiality Test. After which the selected candidates appear for the 5 days SSB interview round for the final selection. To know more visit: https://www.upsc.gov.in
The day before the main SSB interview days is reserved for Reporting. All the candidates are supposed to report to their respective selection centres. On Day 1 the Screening Test is done, for this candidates have to take an Intelligence Test (Verbal & Non-Verbal) & Picture Perception Test. In the Picture Perception test, a slide either hazy or clear is shown for 30 seconds & candidates have to write a story on it. After finishing this test, the group discussion round happens. This whole sequence is commonly called the Picture Perception and Discussion Test (PPDT).
Day 2 is reserved for Psychology Tests. It checks the candidate's psychological suitability whether he is fit to become an officer or not. On this day Thematic Apperception Test (TAT), Word Association Test (WAT), Situation Reaction Test (SRT) and Self Description Test (SD) take place. On Day 3 and 4 Group Testing Officer Tasks (GTO Tasks) take place.  Group Discussion, Progressive Group Tasks (PGT), Individual Obstacles, Group Obstacles Race or Snake Race, Command Task, Lecturette, Final Group Task, Group Planning Exercise (Military Planning Exercise), Half Group Tasks etc. are used to test a candidate.
The final day of the NDA UPSC exam interview is that of the Conference. In this round, the candidates sit with the SSB board members who ask a few general questions. This round tests the confidence of candidates.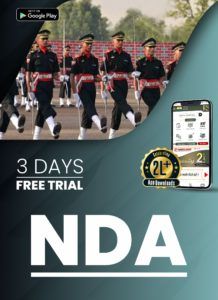 Cracking the NDA Exam
The NDA UPSC exam interview is a tough nut to crack as it tests a candidate for 5 days. It needs self-confidence and patience to pass the 5 days SSB interview with flying colors. Shaurya Bharat App helps you prepare well for the NDA Exam. Its live video lectures are student-friendly. Regular interactions with highly qualified teachers help the students track their progress. The teachers make sure that all the students are confident and have a positive attitude towards the exam.
Download our App.
Jai Hind!