The Indian Air Force conducts the Air Force Common Admission Test (AFCAT) to recruit officers in the Air Force. The exam takes place twice a year in February and August, Indian Air Force (IAF) has invited online application from Indian citizens (Men and Women) for the courses commencing in January 2022 for grant of Short Service Commission (SSC) in Flying Branch and Permanent Commission (PC) and Short Service Commission (SSC) in Ground Duty (Technical and Non-Technical) Branches. Online applications are also invited for grant of PC/SSC for NCC Special Entry Scheme (For Flying Branch). AFCAT 2021 (1) Exam will be held on 20th & 21st February 2021 for the recruitment of 235 vacancies for Group A Gazetted Officers in Flying and Ground Duty (Technical and Non-Technical) branches.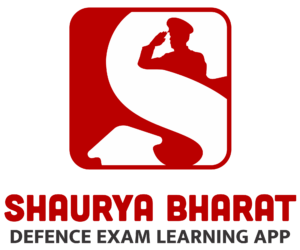 The written exam consists of:
The AFCAT written exam is followed by the SSB interview. The AFCAT written exam consists of four sections- general awareness, verbal ability in English, numerical ability, and reasoning & military aptitude test which you will find on https://shauryabharat.com/ (Shaurya Bharat defence learning App).
Weightage of the paper
The weightage of the paper is 300 marks and has 100 questions. The duration of the exam is two hours, three marks are given for every right answer and 1 mark is deducted for every wrong answer. SSB interview for AFCAT needs a good strategy and focus. SSB is a 5 days long interview, a candidate is screened thoroughly through different tests.
Two stages of testing
The whole SSB procedure includes two stages of testing as Stage I and Stage II. The interview takes place in the SSB centers that are designated by the Service Selection Board itself. The way to reach the SSB is not very easy as a candidate who wishes to appear in front of the board, has to secure the minimum qualifying marks separately in his written test and Officer Potentiality Test. To pass the SSB interview a candidate needs to put in  80% mental effort and 20% physical effort.
Shaurya Bharat defence learning App https://shauryabharat.com/indian-air-force/is India's first exclusive Defence Learning application. This learning platform is dedicated to coach, train and prepare the aspirants for competitive exams of Armed Forces, Paramilitary forces & Police Services helps you prepare well for the interview as its live video lectures are student-friendly and the regular interactions with highly qualified teachers help the students track their progress. The teachers make sure that all the students are confident and have a positive attitude towards the exam, to crack the SSB interview.The selection board looks for Officer Like Qualities.The day before the beginning of the 5 days SSB interview is that of reporting.
Day 1 is for Screening Test in which Officer Intelligence Rating (OIR) tests and Picture Perception & Description Test (PP & DT) happens.
Day 2 various Psychology Tests take place, like Thematic Apperception Test (TAT), Word Association Test (WAT), Situation Reaction Test (SRT), and Self Description Test (SD).
Day 3 and Day 4 are reserved for Group Testing Officer Tasks in which Group Discussion, Progressive Group Tasks (PGT), Individual Obstacles, Group Obstacles Race or Snake Race, Command Task, Lecturette, Final Group Task, Group Planning Exercise (Military Planning Exercise), Half Group Tasks, etc.
Day 5  SSB interview is that of the Conference. The foremost tip to start the SSB interview for AFCAT preparation is to keep in touch with the current affairs. Read newspapers and watch the news on television. Practice and develop stamina for ground tasks, this way you will be able to perform tough tasks easily. Know your native place very well as the board members expect you to know everything about it. Develop your confidence and oratory skills. Give ample stress to your well being and physical fitness.
The SSB interview for AFCAT preparation is a tough nut to crack as a candidate is tested for 5 days but Shaurya Bharat defence academy trains you like one that the tough nut becomes all easy for you. It needs self-confidence and patience to pass the SSB interview for AFCAT and Shaurya Bharat defence academy gives you what you dreamt for and stayed up for…