AFCAT Exam Pattern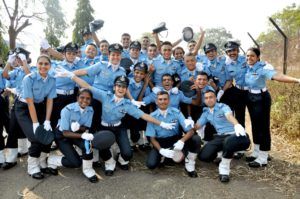 The Indian Air Force is all set to take the Air Force Common Admission Test (AFCAT) for the year 2021. The AFCAT 2 2021 is supposed to conduct on 21 August and 22 August 2021. The online application will open in June 2021. The recruitment will take place for both Flying as well as Ground Duty branch in Technical and Non-Technical field. In this article, we will discuss the AFCAT exam pattern. 
The AFCAT and EKT (Engineering Knowledge Test) will be a computer-based multiple-choice exam. The questions will be displayed in random order on your computer screens. The exam will be in the English language only. The total duration of the exam will be 150 minutes. To know more visit: https://afcat.cdac.in
This exam comprises of three stages:
Written Exam (AFCAT + EKT for Technical Branch)

Air Force Selection Board (AFSB) 

Interview and Medical Test
The AFCAT exam pattern for the upcoming exam will have a very high standard and the syllabus can be divided and subdivided as follows: 
 

General Awareness: 

(Basic Science, Sports, Geography, History, Environment, Arts and Culture, Civics, International Affairs etc.)

Verbal Ability: 

(basic grammar, error detection, comprehension, testing vocabulary, synonyms and antonyms, tenses, fill in the blanks and sentence completion)

Numerical Ability: 

(averages, profit and loss, simple interest, decimals, fraction, ratio and proportion, simplification and percentage etc.)

Reasoning and Military Aptitude Test: 

(diagrams, figures, tables, charts, reasoning analogies etc.)
A total of 20 questions will be asked from the General Awareness section making 60 marks its total weightage. 30 questions will be asked from Verbal Ability section making 90 marks its total weightage. The Numerical Ability section will have 15 questions and its weightage will be 45 marks. Reasoning and Military Aptitude Test section will have 35 questions and its weightage will be 105 marks. The candidates will get 3 marks for every right answer and 1 mark will be deducted for every wrong answer. 
AFCAT recruits candidates for both short service commission and permanent commission, and it is as follows:
Flying Branch- Short Service Commission only

Technical Branch- Permanent and Short Service Commission 

 Ground Duty Branch- Permanent and Short Service Commission
To pass the AFCAT exam a candidate must be mentally and physically fit. Apart from this, a candidate must be free from any disease or disability. The standard height and weight criteria for male and female candidates are different. For the physical fitness test, a candidate has to do 10 push-ups, a 1-mile run in 10 Minutes and 3 chin-ups.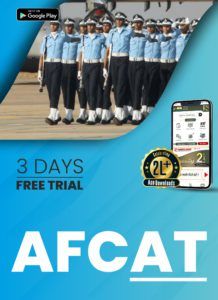 Prepare for AFCAT 2021
The AFCAT opens the door of opportunities for every interested candidate. The preparation for the AFCAT CDAC exam from the scratch seems quite difficult as it needs a lot of time and a syllabus driven strategy. Shaurya Bharat App does all that and much more for you. The App brings lectures covering the entire syllabus to your window. The personal guidance and advice given by our experienced teachers is the cherry on the cake. Teachers regularly discuss previous year question papers and related topics to brush up on your knowledge. The mock tests help you track your progress and motivate you to do better. With the Shaurya Bharat App success is just a click away.
Download our App.
Jai Hind!