Rashtriya Indian Military College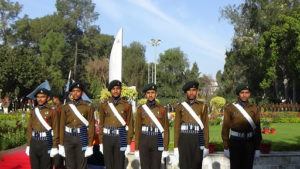 Many young boys every year get selected for the army training academies of India. Their hard work makes their lives as they step forward to become officers in the prestigious Indian Defence Forces. The Rashtriya Indian Military College is one such institution. The RIMC school is a feeder for the defence academies such as National Defence Academy and Naval Academy. 
Situated in the beautiful Doon Valley in Dehradun India, the alumni of this institute rose to the highest ranks in the Army, Navy and Air force of India, Pakistan and Bangladesh. Established as the Prince of Wales Royal Indian Military College, the RIMC school has its roots lie in the demand of Indian nationalists to Indianise the officer cadre of the British Indian Army. 
The RIMC school is spread over 130 acres and enrols 250 cadets every year. Aspirants come over from every part of India to sit in the RIMC Entrance Exam, which is a national level competition. The entrance exam is held twice a year. Candidates who manage to pass the written exam then go for a complete medical test. 25 cadets are enrolled in each term i.e, every six months. The RIMC admission procedure takes place for Class VIII. Male candidates studying in Class VII of age between 11.5 to 13 at the time of commencement of term can apply for the RIMC school entrance exam. 

Written Exam
The written examination question paper is divided into three sections:
English

Mathematics 

General Knowledge
The English section has a weightage of 125 marks, the Mathematics section has 200 marks' weightage and 75 marks questions are asked from the General Knowledge section, making it a total of 400 marks. Topics such as Common Errors, Synonyms and Antonyms, One Word Substitution, Idioms and Phrases, Miscellaneous, Essay Writing, Letter Writing and Story Writing need to be covered. Number System, HCF and LCM, Square & Square Root, Average Ratio & Proportion, Percentage, Profit and Loss, Time and Distance, Time & Work, Simple Interest, Basic Operations & Factorization, Linear Equations, Set Theory, Lines & Angles, Triangle, Quadrilateral & Parallelogram, Polygon, Mensuration, Area of Field Book and Cube and Cuboid in Mathematics. Physics, Chemistry, Biology, History, Geography, General Science, General Knowledge& IQ TESTS and Sports in General Knowledge. To know more visit: http://www.rimc.gov.in
Candidates must score at least 50% marks in each section to qualify for the exam. Candidates who pass it are called for the Viva-Voce and then for a complete medical test. 

The admissions in the Rashtriya Indian Military College is exclusively for boys. The school is a boarding type and no day boarders are allowed. The RIMC school preparation is vast and it needs a proper strategy to pass it. Every year fresh batch of boys gets admission in the Rashtriya Indian Military School. These schools grave virtues, discipline and class in the minds of young boys and it is once in a lifetime opportunity to get enrolled as a Rimcollian.

Prepare for RIMC Entrance Exam
Shaurya Bharat App gives a chance to every aspiring student to touch the sky of dignity and glory. Their team of experienced teachers make sure that no student falls behind as they give personal attention to every student and solve their doubts in a fraction of seconds. The regular live classes and online mock tests help students to track their progress and walk on the path of success.
Download our App.
Jai Hind!