Gear Up for NDA and NA 1 2021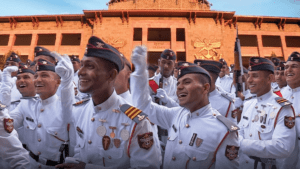 The NDA and NA 1 2021 Exam is scheduled to be conducted on 18 April 2021. UPSC conducts the NDA and NA Examination twice every year for selection of young candidates to the esteemed National Defence Academy, Khadakwasla, Pune (Maharashtra). Every year almost 5 lakh defence aspirants appear for this examination, and only 8000 to 9000 students clear the written to get the SSB Interviews call letter. Out of which only 400 to 500 candidates are recommended. Few selected valiant candidates train for three years and join the prestigious Indian Armed Forces by joining their respective academies. The staggering amount if aspirants and the limited number of vacancies make it one of the most difficult exam in India. NDA offers a unique life style, wide range of courses and adventure activities along with the opportunity to serve the nation.

NDA and NA 1 2021
NDA and NA 1 2021 exam is just a week away. It is scheduled to be conducted on Sunday, 18 April 2021. The exam will be conducted in offline mode at various centers across India. The exam will be objective in nature and have two separate papers to be attempted in two and half hour each. Paper 1 will be of Mathematics having a maximum of 300 marks and paper 2 will be of General Ability and English having maximum of 600 marks. Therefore the NDA and NA exam has a total of 900 Marks. Paper 1 of Mathematics will include questions from Algebra, Matrices and Determinants, Trigonometry, Analytical Geometry of two and three dimensions, Differential Calculus, Integral Calculus and Differential Equations, Vector Algebra, Statistics and Probability.  Paper 2 will include Physics and Chemistry (Upto 12th Standard), General Science, Social Science, Current affairs and English.
Click here to get detailed syllabus.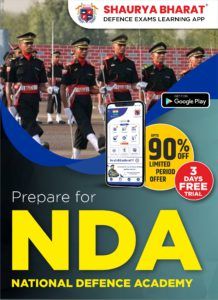 Final Preparation for NDA and NA 1 2021
With only a week left for NDA and NA 1 2021, it is time to give your preparation a boost and making sure no stone is unturned. With determination and proper planning candidates can make the best of the few remaining days. It becomes very crucial in these last days to go through previous year papers to identify the most frequently asked questions. Four to five questions from current affairs are sure to be seen in the paper, making it must for candidates to read upon past 6 to 8 months international and national events. Mathematics holds a big chunk of marks which  can make or break your success. For mathematics rigorous practice is expected, and making note and revising important formulae. For English section candidates should focus on practicing reading and comprehension. English usually makes for the most scoring of the all sections. And most importantly aspirants shouldn't panic. Keeping calm they should revise their strengths and not pick any new topics at the end.
Practice and Improvement 
Days before D-day every aspirant should focus on attempting mock exams. Mocks prepare you for the real exam and help you to get over the exam shivers. Good mock test based on current pattern of NDA and NA 1 2021 help students test their preparation. Shaurya Bharat Mega Test series helps students to perform well in the exam and clear it flying colors. The carefully curated test series is based on the latest pattern of NDA and NA 1 2021 with most expected questions. It also gives you a detailed analysis of your performance and shows key areas for improvement. Our teachers guide our students and clear all their doubts. Our mentor Captain Atul Sir motivates all his students and keep their Josh High!
★Join our Mega Test Series★
★Based on Latest Pattern★
★Includes most Expected Questions for NDA and NA 1 2021★
★Get detailed performance analysis★
★Guidance from our expert Teachers for our students★
★Proper schedule to crack the exam in given time★
Download Shaurya Bharat App 
Visit our Website
Shaurya Bharat Team wishes success to every candidates. We advise candidates to remain calm and confident and have confidence in their preparations.
Shaurya Bharat is India's first app that is dedicated exclusively for armed forces exams preparation. It is led by retired armed forces officer and a team of the best teachers. Captain Atul Sir knows what it takes to join the Indian Armed Forces. Having more than 10 years of experience and producing more than 3500 shauryaveers, guides and ensures the success of students.
Shaurya bharat helps you to turn your dreams into reality and earn the uniform.
Be a shauryaveer and prepare for victory!
Jai Hind!