AFCAT 2021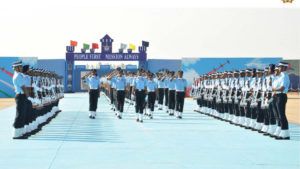 Every year the Air force of India invites young men and women across the nation to join the force as Group A Gazetted Officers. The recruitment takes place for both Flying as well as Ground Duty branch in Technical and Non-Technical field. The Air Force Common Admission Test (AFCAT) is conducted twice a year, in February and August. The AFCAT 2021 -II is supposed to conduct on 21 August and 22 August 2021. The online application will open in June 2021. 
AFCAT recruits candidates for both short service commission and permanent commission, and it is as follows:
Flying Branch- Short Service Commission only

Technical Branch- Permanent and Short Service Commission 

 Ground Duty Branch- Permanent and Short Service Commission
The AFCAT has set its bar too high hence it is quite challenging to clear the exam. The right way to clear the upcoming AFCAT 2021 exam is to prepare for all the stages of the exam separately. 

The AFCAT 2021 exam for the Non-Technical branch will take place in three stages:
Written Exam (AFCAT)

Air Force Selection Board (AFSB) 

Interview and Medical Test
While for the Technical branch the candidates will have to go through these stages:
Written Exam (AFCAT + EKT)

Air Force Selection Board (AFSB) 

Interview and Medical Test
EKT stands for the Engineering Knowledge Test. The Air Force has a set of rules for the marital status of the candidates. Candidates below 25 years of age need to be unmarried at the time of commencement of the course. Widows/Widowers and divorcees below 25 years of age are also not eligible for AFCAT CDAC. Candidates who marry to the date of his/her application though successful at SSB or medical will also not be eligible for training. Those who marry during the period of training will be discharged and will be liable to refund all expenditure incurred on him/her by the government. Married candidates above 25 years are eligible to apply, but during their training period, they will neither be provided married accommodation nor can they live with family. To know more visit: https://afcat.cdac.in
To pass the AFCAT CDAC exam a candidate must be mentally and physically fit. Apart from this, a candidate must be free from any disease or disability. The standard height and weight criteria for male and female candidates are different. For the physical fitness test, a candidate has to do 10 push-ups, a 1-mile run in 10 Minutes and 3 chin-ups.

Prepare for AFCAT 2021
The AFCAT opens the door of opportunities for every interested candidate. The preparation for the AFCAT CDAC exam from the scratch seems quite difficult as it needs a lot of time and syllabus driven strategy. Shaurya Bharat App does all that and much more for you. The App brings lectures covering the entire syllabus to your window. The personal guidance and advice given by our experienced teachers is cherry on the cake. Teachers regularly discuss previous year question papers and related topics to brush up your knowledge. The mock tests help you track your progress and motivate you to do better. With Shaurya Bharat App success is just a click away.
Download our App.
 Jai Hind!