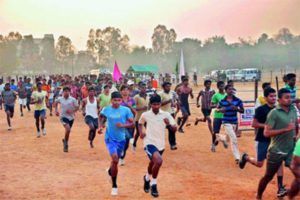 Physical Fitness reflected by Indian Armed Forces Personnel from jawan to an officer is unmatched by any other Indian organization. The physique is results from rigorous physical training and stern requirements of the job. For that purpose Indian Army selects candidates having good mental and physical stamina, who don't break down by strict training that makes them future warriors. One such test is 1600 m race in Physical Test.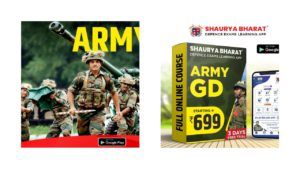 Physical Fitness Test
Indian Army selects candidates who are physically fit and mentally strong. The selection process of Indian Army requires candidates to clear the set minimum physical standards. This prestigious organization has set high bars for physical standards, because it excepts nothing but the best. The Physical Fitness Test is daunting for but not invincible. With thousands of candidates clearing the physical standards and achieving their dreams proves hard work is an attribute to success.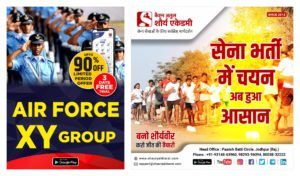 The Physical Test carries 100 marks. But for certain rallies such as Soldier Clerk, Technical etc. the PFT is only qualifying in nature. A major event in Physical Fitness Test is 1600 m race. It holds 60 marks out of the total for Physical Fitness Test (PFT).  Succeeding in it is a feat of great physical strength because of time restriction. During the recruitment rally it is the first test that candidates have to go through. Indian Armed forces expects candidates to clear 1600 m race in following time limit
| | | |
| --- | --- | --- |
|                  GROUP |              TIMING |                 MARKS |
|                        1 |        Up to 5 min 30 sec. |                      60 |
|                        2 |        From 5 min 31 sec to 5 min 45 sec. |                      48 |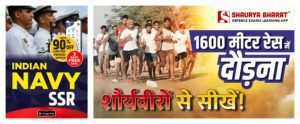 Contrary to what it may seem, it is not a cake walk but physically straining activity that demands every ounce of your energy and every breath. Due to the sheer number of aspirant every event gets competitive. Soon culling of the heard starts to get the best out of the crowd. The system of enclosures is implemented, and candidates are divided into groups based on time they take to complete the race. The size of group is subject to the number of vacancies and the number of candidates attending rally.
The fist group contains 10-20 candidates sometimes even lower. Candidates who come first are rated as Excellent and are awarded 60 marks. While those who come in second enclosure are awarded 48 marks. Those who are unable come in the above two enclosure are sent back home. The marks obtained in it also helps them in further tests, as earning full marks in one means they can afford to score a little less in written examination. But it is advised to not slack of in any test as merit list is usually based on written examination ( except for soldier gd).

How to prepare for 1600m race
The 1600 m race is of vital importance and often becomes the reason between selection and rejection. Therefore it requires a good level of preparation. For candidates just starting their preparation should focus on building their stamina first. They should develop a habit of running at least 1 -2 km. To progress themselves candidates should increase their running distance. Once comfortable with running 3-5 km in single go they should start working on completing the run in stipulated time limit.  A well designed schedule is required that focuses on improving the time limit, building up strength in legs and developing core strengths.
This can be achieved by setting days that focus on specific task such as long run, short run and sprints. To maintain the physical standards proper exercise, stretching and strengthening is required. Every run should have a pre run warmup and a post run cool down session involving various stretching exercises.
And lastly a nutritious diet that replenishes drained out nutrients and proper rest is required. The diet should be rich in protein that helps in developing the muscle strength and just enough carbohydrates to keep him energized throughout the day. Muscles are stretched and often rupture when pushed beyond limits require a proper time to heal and regain their strength thus demanding proper rest.

Points to remember
It is test of your physical abilities and it takes time to improve. With continuous efforts you're bound to succeed.
Don't get disheartened with slow progress, remember ' a journey of thousand miles begins with a single step".
Work on lung capacity and core strength.
While running avoid breathing with mouth, as it decreases efficiency.
Run in laps similar to what you'll face at recruitment rally.
Run on soft ground with proper shoes.
Proper diet and rest are integral part part of training.
Consistency is key, be religious in your training schedule.
 Prepare with SHAURYA ACADMEY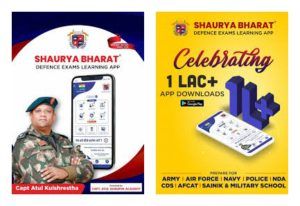 Preparation for physical fitness test requires discipline and determination. Every small action in the write direction aids in crossing the finish line in first enclosure. It is always better and often recommended to take guidance from experts who have gone through the same process and are masters of their crafts. At Shaurya Academy aspirants are trained under Leadership of Capt. Atul Kulshrestha and  his dedicated and experienced team. Ex Service men coach and prepare candidates for physical tests. Having their own training ground makes candidates accustom to the conditions at rally events. Proper care is given build and maintain their health be it nutritious food and proper schedule for rest. Team of best Teachers help them with their written exam preparation. Together each member of Shaurya Academy works hard to ensure the success of every aspirant.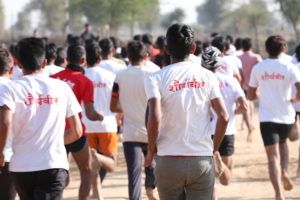 Download the Shaurya Bharat App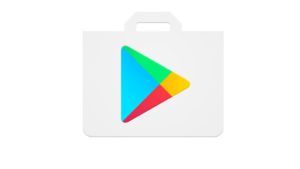 Become a Shauryaveer…and Prepare for victory!
Jai Hind!