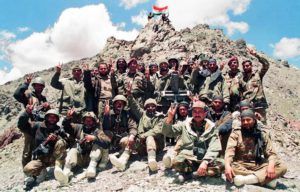 On 26th July 1999, the Indian Army recaptured all the Indian posts in Kargil that were occupied by Pakistan's army by breaking the signed treaty. After that, 26th July has been observed to commemorate the sacrifices made by all the brave soldiers in the war.
The war put its feet between May and July of 1999 in Jammu and Kashmir's Kargil district. The war was initiated by then Pakistan army chief General Pervez Musharraf without notifying then Pakistan Prime Minister Nawaz Sharif.
It all started with the infiltration of both Pakistani troops and terrorists into Indian territory near Kargil. The infiltrators put themselves in key locations that gave them an advantage during the start of the war. Based on the information given by local shepherds of Kargil, the Indian Army was able to ascertain the points of incursion and launched "Operation Vijay" based on that.
The Indian Army declared the mission successful on 26th July 1999. Since then this day is celebrated annually as "Kargil Vijay Diwas". The victory came at a high price of Soldiers. The official martyred in India was 527, while that on the Pakistani side this figure was between 357 and 453.
Because the Pakistani soldiers and terrorists had positioned themselves at higher altitudes, it gave them an advantage in war, as they could fire downward advancing over Indian troops. Pakistani Army shot down two Indian fighter jets while another fighter jet crashed during the operation. Pakistan asked the US to fight from their side, but US President Bill Clinton declined to do so until Pakistani troops withdraw from the Line of Control. As the Pakistani troops withdrew, the Indian armed forces attacked the rest of the outposts and managed to get back the last of them by 26 July.
Pakistan denied his contribution to the war, saying India was facing off with "Kashmiri freedom fighters" not them. However, later they awarded their soldiers for the war which they didn't fight, removing any doubt of its involvement.
India also increased its defense budget after the Kargil war.
Gallantry awards
Rifleman Sanjay Kumar, 13 JAK Rifles, Param Vir Chakra
Hawaldar Chuni Lal, 8 JAK LI, Vir Chakra. Also awarded Sena Medal for gallantry and posthumously awarded Ashok Chakra as a Naib Subedar.
Grenadier Yogendra Singh Yadav, 18 Grenadiers, Param Vir Chakra
Lieutenant Manoj Kumar Pandey, 1/11 Gorkha Rifles, Param Vir Chakra, Posthumous
Captain Vikram Batra, 13 JAK Rifles, Param Vir Chakra, Posthumous
Captain Anuj Nayyar, 17 JAT Regiment, Maha Vir Chakra, Posthumous
Captain Haneef-u-ddin, 11 Rajputana Rifles, Vir Chakra, posthumous
Major Rajesh Singh Adhikari, 18 Grenadiers, Maha Vir Chakra, Posthumous
Major Mariappan Saravanan, 1 Bihar,Vir Chakra, Posthumous
Squadron Leader Ajay Ahuja, Indian Air Force, Vir Chakra, Posthumous