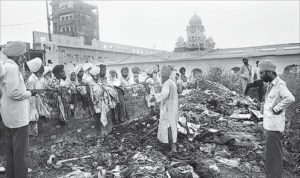 Operation Blue Star was a military operation which was exicuted by Indira Gandhi, former Prime Minister, to remove militants with weapons in the Harmandir Sahib (Golden Temple) in Amritsar, in order to establish control over it.
The roots of Operation Blue Star can be traced from the Khalistan Movement. The Khalistan Movement was a political Sikh nationalist movement that wanted to create an independent state for Sikh people, inside the current North-Western Republic of India.
The Khalistan Movement originally started in the early 1940's and 50's, but the movement was most popular in the 1970s and 1980s. Jarnail Singh Bhindranwale, who was the leader of the Damdami Taksal, was another important factor which led towards Operation Blue Star. Bhindranwale had a heavy influence on the Sikh youth in Punjab during this time as the leader of the Taksal. Bhindranwale propagated original values of Sikhism and persuaded people, both young and old to follow the rules and tenets of the religion. Bhindranwale is noted for his involvement in Operation Bluestar, in which he and Khalistan supporters occupied the Akal Takht complex, including the Golden Temple, in Amritsar. Bhindranwale was widely perceived to be a supporter for the creation of a proposed Sikhism-based theocratic state of Khalistan. The main motive of Operation Blue Star was to eliminate Sant Jarnail Singh Bhindranwale, along with other Sikh militants and regain control over the Harmandir Sahib in Amritsar.
The Operation: Operation Blue Star had two components to it. The first one was Operation Metal, which was confined to the Harmandir Sahib (the Golden Temple) complex. Operation Metal was followed by Operation Shop. It raided the Punjab countryside, in order to capture any suspects.
Following it, Operation Woodrose, the second component, was launched throughout Punjab. The operation was carried out by Indian Army, using tanks, artillery, helicopters and armored vehicles. Operation Blue Star was launched to eliminate Jarnail Singh Bhindranwale and other sikh militants who had taken cover in the Amritsar Harmandir Sahib Complex. Jarnail Singh Bhindranwale and former Major General Shabeg Singh led the armed Sikhs within the Harmandir Sahib. The entrie operation lasted for ten days. It started on June 1, 1984 and ended on June 10, 1984.
Timeline of important dates:
June 1, 1984: 'Guru Ram Das Langar' building inside the Golden Temple was attacked by the Indian Army. In that attack, around 8-10 people died.
June 2, 1984: Approximate seven divisions of army were deployed in Punjab. Media faced a blackout and transportation also suffered a major setback during that time. Outsiders were denied entry. In many parts of Amritsar, water and electricity supply was cut off.
June 3, 1984: Punjab faced a complete curfew as the army and para-military were patrolling around. Harmindar Sahib's entries and exists were completely seald.
June 4, 1984: Ramgarhia Bungas, inside the Harmandir Sahib Complex was bombed. Ordnance QF 25 pounder was used to attack the Sikh militants. Gurcharan Singh Tohra, former head of SGPC, was appointed to negiotate with Bindrawale. However, the negotiations had failed.
June 5, 1984: Hotel Temple View and Brahm Boota Akhara, on the southwest fringes of the complex was attacked by BSF and CRPF.
June 6, 1984: Army used tanks to destroy the Akal Takhat.
June 7, 1984: Indian army had gained control over Harmandir Sahib complex.
Media Blackout:During the Operation Blue Star, the media in punjab faced a blackout. Journalists were reportedly were put in a military bus and abandoned at border of Haryana. In that period, Punjab faced a curfew and there was no transportation across the state. Journalists who tried to enter Punjab were denied entry. Indian nationals, who were working for foreign media were also denied entry into Punjab. All these incidents led to heavy criticism towards the government.
Assassination of Indira Gandhi:Assassination of Indira Gandhi was the most notable event related to the Operation Blue Star. Indira Gandhi was assassinated on October 31, 1984, four months after the Operation Blue Star. She was shot dead by two of her Sikh bodyguards, Satwant Singh and Beant Singh. 33 rounds of bullets were fired on Indira Gandhi. The primary reason for the assassination is the Operation Blue Star, which was ordered by her.
Anit-Sikh Riots:Assassination Of Indira Gandhi led to the Anti-Sikh Riots across India. After the assassination of Indira Gandhi on October 31 1984, anti-Sikh riots took place on 1 November 1984. It continued for a few days, which killed more than 3,000 Sikhs.
The worst affected areas were Sultanpuri, Mangolpuri, Trilokpuri, and other Trans-Yamuna areas of Delhi. Mobs made use of iron rods, knives, and combustible material such as kerosene and petrol. The mob attacked Sikh neighbourhoods, brutally killing any Sikh men or women they could find. Their shops and houses were destroyed and burned. In other incidents, armed mobs also stopped buses and trains, in and around Delhi. They pulled out Sikh passengers, who were doused with kerosene and burnt alive. Others were dragged out from their homes and attacked with bladed weapons.
Throughout the night of October 31 and morning of November 1, Congress leaders met the local supporters to distribute money and weapons. 100 rupee notes and bottles of liquor were handed out to the mob. It is also said that Delhi police kept its 'eyes closed' during the riot as it was pre-planned. On October 31, Congress party officials provided the mob with voter lists and ration lists. The lists were used to find the location of Sikh homes and business, Without the lists, it would have been an impossible task to locate the Sikhs.
Bombing of Air India Flight 182:On June 23, 1985, Air India Flight 182 which was operating on the Montreal–London–Delhi route, was blown up by a bomb at an altitude of 31,000 feet (9,400 m). The plane crashed into the Atlantic Ocean. A total of 329 people were killed, in which 268 were Canadians, 27 British citizens and 24 Indians. The majority of the victims who died were Indo-Canadians. The incident was the largest mass murder in Canadian history. The attack is considered to be a retaliation against India for the Operation Blue Star, which carried out by the Indian Army to flush out several Sikh militants who had captured the Golden temple. Inderjit Singh Reyat, a Canadian national,is the only person legally convicted of involvement in the bombing.
Operation Black Thunder: India saw a repeat of Operation Blue Star a few years later. Operation Black Thunder was the name given to two operations that took place in India in the late 1980s, to flush out remaining Sikh activists from the Golden Temple. 'Black Cat' commandos of the National Security Guards (NSG) were used in this operation. Similar to Operation Blue Star, these attacks were towards Khalistani militants who were using the Golden Temple in as a base. The first Operation Black Thunder took place on April 30, 1986. The second Operation Black Thunder began on May 9, 1988. The operation was headed by Kanwar Pal Singh Gill, who was the DGP of Punjab Police. Little damage was inflicted on the Golden Temple, compared to Operation Blue Star. It is known for the free access the media, unlike during Operation Blue Star. Operation Black Thunder was far more successful, compared to Operation Blue Star.