UPSC is ready to conduct the NDA Exam 2021

NDA 1 2021 Exam 
National Defence Academy is one of the most awaited defence exam every year. The NDA exam takes place to give admission to the future officers in all three wings for the NDA i.e, Army, Navy and Air force and for the Indian Naval Academy Course (INAC). Like every year NDA exam 2021 will also be conducted twice this year. The Union Public Service Commission (UPSC) conducts the exam and shortlists candidates who manage to obtain the minimum qualifying marks. Those candidates are further called for the SSB interview.
NDA exam 2021 admit cards were released on March 26 by the UPSC. The admit cards are available on the official website of UPSC https://www.upsc.gov.in  To download the admit cards, candidates are required to enter either their registration number or roll number. The written exam of NDA exam 2021 will take place on 18 April 2021.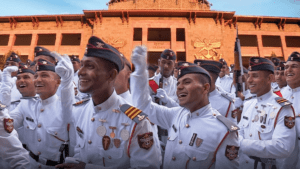 Eligibility Criteria
For the NDA exam 2021, interested candidates need to fulfil some eligibility criteria. A candidate must have been born not earlier than July 2, 2002, and not later than July 1, 2005, to sit for the NDA 1 exam. For NDA 2 exam, candidates must have been born not earlier than January 2, 2002 and not later than January 1, 2006.
The educational qualifications for the NDA exam 2021 are different for each wing of the defence forces. For the Army wing of the NDA, a candidate must have passed Class 12/Higher Secondary or equivalent from a recognised board or university. For the Air Force, Navy and Naval Academy of NDA, a candidate must have passed Class 12/Higher Secondary with Physics and Mathematics.
The NDA exam 2021 notification was released on 30 December 2020 and on the same day, online application forms also started filling out. The last date to apply was 19 January 2021. Admit cards were out on 26 March 2021. The written exam is on 18 April 2021. The written exam's results will be declared in June 2021. SSB interview of the candidates who obtain the minimum qualifying marks in written will be conducted from July to September 2021.
The NDA has a total of 370 vacancies out of which 208 vacancies are for the Indian Army, 42 for the Navy and 120 for Air Force (including 28 for ground Duties). The Naval Academy (10+2 entry scheme) has 30 vacancies.

Documents Required
Candidates are required to carry their NDA admit card and one photo identity proof to the exam centre. A clipboard or hardboard and a black ball pen are a must. Sheets for rough work are provided by the invigilator. Books, notes, loose sheets, electronic or any other type of calculators, mathematical and drawing instruments, log tables, stencils of maps, slide rules, test booklets and rough sheets are strictly prohibited inside the examination centre. Strict action will be taken against candidates found copying or cheating.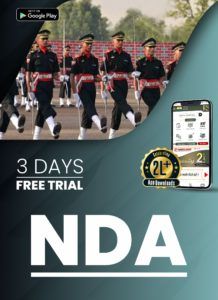 Cracking NDA with Shaurya Bharat App
The NDA exam 2021 is a ray of hope for many young boys. The exam will make their life but to crack this exam in one go rely on nobody else but the Shaurya Bharat App. The app provides the best content for NDA Exam preparation. This app helps you prepare with highly qualified teachers help students can assure their success.
Download our App.
Jai Hind!