Most asked NDA SSB Interview Questions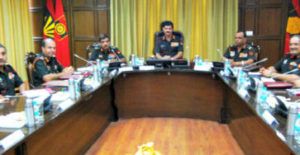 The National Defence Academy is a gateway to the Indian armed forces. Once a candidate cracks the NDA written as well as the SSB interview, he clears his path to becoming a class A Gazetted Officer. The NDA written exam can be prepared through various mock tests and guide books. But it is quite difficult to predict the questions asked in the NDA SSB interview, but there are several general questions that are asked by the interviewer. 

SSB Procedure
The Services Selection Board interview takes place in two stages: Stage I and Stage II. Candidates have to report a day before the beginning of the 5 days SSB interview. Day 1 is for Screening Test in which Officer Intelligence Rating (OIR) tests and Picture Perception & Description Test (PP & DT) are conducted. On Day 2 various Psychology Tests take place like Thematic Apperception Test (TAT), Word Association Test (WAT), Situation Reaction Test (SRT) and Self Description Test (SD).
Day 3 and Day 4 are reserved for Group Testing Officer Tasks in which Group Discussion, Progressive Group Tasks (PGT), Individual Obstacles, Group Obstacles Race or Snake Race, Command Task, Lecturette, Final Group Task, Group Planning Exercise (Military Planning Exercise), Half Group Tasks etc are conducted. Day 5 of the SSB interview is for Conference. In this round, the candidates sit with the SSB board members and the board asks a few general questions to them. This is to test the candidate's confidence level.

Generally Asked Questions
The type of questions put up in the NDA SSB interview are:
Introduction Question: This is the most basic and predictable question that is asked during the interview. The board members would like to know more about you and your family. So be prepared and tell them what they ask for. It is asked to determine your level of confidence. 
Usual Question: These questions have two types: Rapid Fire Questions and Stress Questions. The interviewer asks these questions to test your originality, problem-solving ability and decision making skills. This section consists of back to back trick questions. Questions about your educational background, your views about your parents, family and friends and their views are asked to see how observant you are. 
Question Related to Social Problems: In this section, you will be asked questions related to the world problems and the problems our country is facing. You must be aware of world issues and current affairs to answer questions asked by the board. Your way to handle problems and your depth of knowledge will be tested. 
Practical Knowledge Question: Some basic technical questions will be asked to candidates applying for the technical branches. Basic Mathematics and Physics related questions will be asked to test the knowledge of your field. 

Prepare for NDA Exam
Shaurya Bharat App helps you prepare well for the NDA Exam. Its live video lectures are student-friendly and the regular interactions with highly qualified teachers help the students track their progress. The teachers make sure that all the students are confident and have a positive attitude towards the exam.
Download our App.
Jai Hind!